Slack Best Practices Part 1: Channel Naming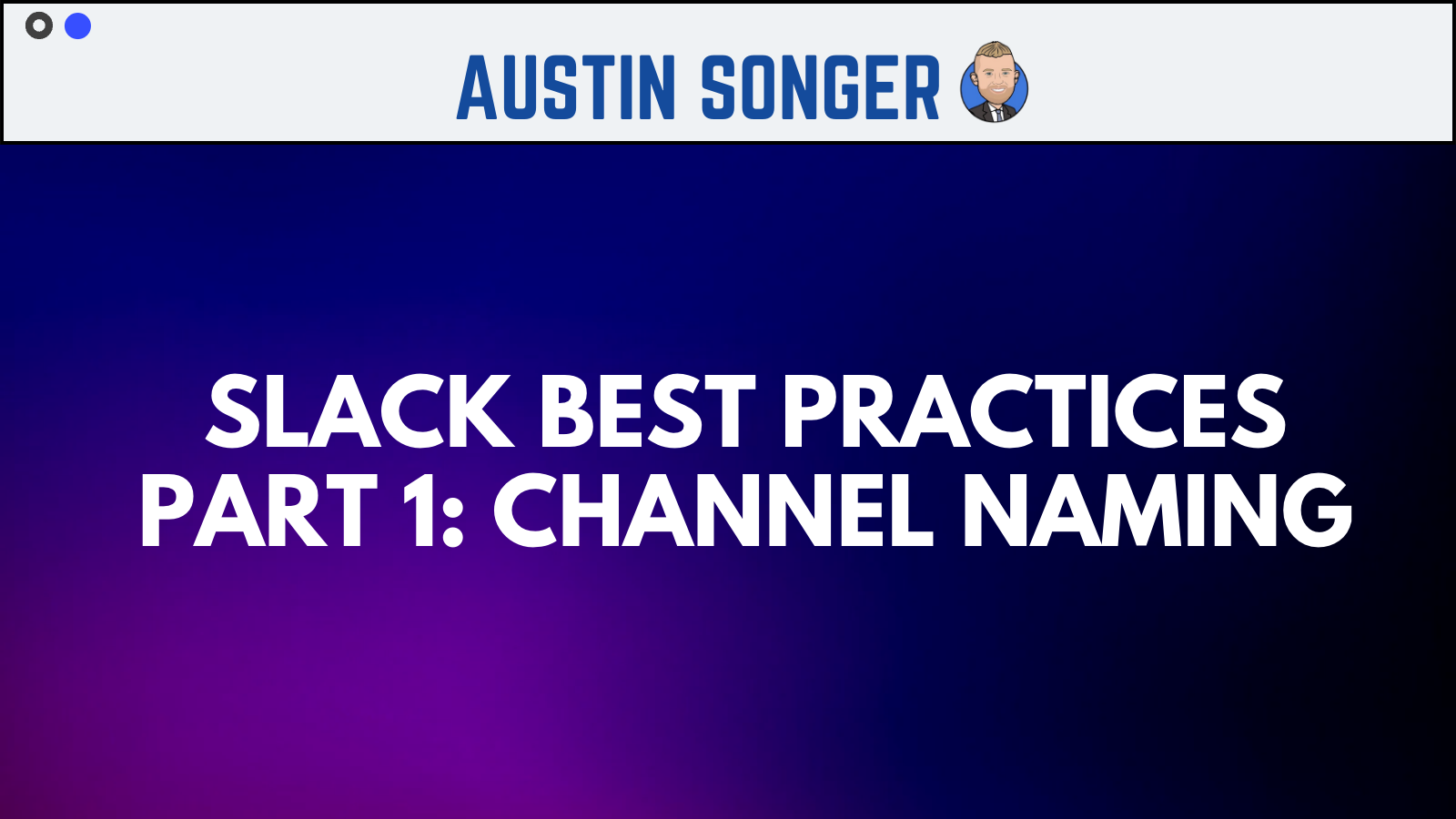 Part 2 will be covering "Slack Usage Policy"
Part 3 will be covering the importance of developing "Slack Training" course.
The Importance of Naming
Naming conventions can make or break Slack utilization for an organization.  The majority of slack channels MUST have a predefined, and agreed upon prefix naming system.
General Channels
#whats-happening-at-<Company>: All announcements and company-wide broadcasts  are posted here. PERMISSIONS should be restricted to who is able post, this ensure a clean timeline.
#questions: Ask all of the company for help with any question you have… and then go document it after you find the answer :)
#thanks: Where company team-members can say thanks to those company team-members who did a great job, helped a customer, or helped you!
#random: Socialize and share random snippets with your fellow company team-members.
#outreach
#community-programs
Team Channels
- #people-connect: For general People Operations tasks such us onboarding, offboarding, letter of employment, Team calender events management etc
- #it-servicedesk: For IT related queries, Okta, issues with hardware, software, system access requests and user permissions etc
- #finance_payroll_expenses: For Expensify issues, delayed reimbursements and salaries, payslips, etc
- #people_talent-acquisition: For referrals based questions, candidate alignments, general talent acquisition etc
- #people_total-rewards: For general questions on Total Rewards including compensation, benefits, and equity
- #engineering_frontend
- #engineering_backend
- #engineering_development:
- #engineering_is-this-known:
- #engineering_dev-escalation:
- #customer_success
- #support_commerical
- #support_government
- #sales_support
- #sales_deals-gratitude:
- #sales_wins-key-deals:
- #sales_field-fyi: For real-time, asynchronous communication that gives context around the announcement, shares enablement resources
- #sales_field-managers: To garner manager-level awareness and solict manager help cascading updates.
- #sales_dev_global: Sales Development related to shoutouts, questions, concerns
- #sales_vp
- #sales_lead–contact-statuses: Lead or contact
- #sales_opportunity-stages: Opportunity
- #sales_criteria-for-sales-accepted-opportunity: Sales Accepted Opportunity
- #sales_lost-deals
- #sales_smb-amer: SMB North America Sales
- #sales_smb-international: SMB EMEA/APAC Sales
- #sales_smb-training-support
- #sales_sdr-global
- #marketing
- #marketing_operations
- #marketing_programs
- #partner_fyi: Updates to the Partnership program, operations, enablement and marketing. 
- #security-appsec
- #security-operations
- #security-assurance
Channel Categories
Customer Account Channels (a_)
These channels (prefixed with a a_) are for team members to collaborate and communicate regarding the account for a customer organization.  
- a_XYZ-internal
- a_XYZ-external
Feature Channels (f_)
These channels are for team-members interested in a specific feature that exists in a company......
Examples
- #f_workflows:
Group Channels (g_)
Group channels (prefixed with a g_). This channels needs to be focused on a very specific thing.
Example
- #g_eng_source-code: Channel for the Source Code development group.
- #g_eng_code-review:
- #g_eng_continuous-integration:
- #g_sys_delivery:
- #g_sys_scalability:
- #g_sys_build:
- #g_sys_deploy:
- #g_sys_application-performance:
- #g_sys_database:
- #g_grc_fedramp:
- #g_grc_stateramp:
- #g_grc_soc2:
- #g_grc_iso27001:
- #g_grc_pci:
- #g_security_redteam:
Project Channels (proj_)
These channels are temporary and used to focus communication around a specific project.
As an ephemeral channel they are archived once a project is complete and can be found in Slack by searching for proj_
Working Group Channels (wg_)
These channels are temporary and used to focus communication around a specific working group.
As an ephemeral channel they are archived once the working group's exit criteria is met and can be found in Slack by searching for wg_
Location Channels (loc_)
These channels are used to help team-members who are in the same general region of the world to talk about get-togethers and other location-specific items. hey are also instrumental if you're going to be visiting somewhere else in the world - there might be a team-member from your company that lives there.
| | |
| --- | --- |
| Channel Name | Description |
| #loc_arizona | |
| #loc_belgium | |
| #loc_austintx | |
| #loc_italy | |
| #loc_amsterdam | |
| #loc_canada | |
| #loc_nyc | |
| #loc-chicagoland | |
Social Groups
Social Groups are Slack channels that bring team members together around common interests, hobbies, and lifestyles.

Examples:
#social-allcaps: Light-hearted conversation in ALL CAPS.
#social-bookclub: A place for bibliophiles to connect, share recommendations and discuss their latest reads.
#social-cats, #social-dog: Show us your cutest pics of your pets! We love all pets, but we made special channels for cats and dog(s).
#social-cheerleader: When you need or want to share encouragement and support!
#social-cooking: Share your favorite recipes, and brag about your homemade dishes.
#social-dad_jokes: Self-explanatory really, give us your best dad jokes!
#social-fit: Channel to discuss fitness and related topics.
#social-gaming: Discuss gaming (both tabletop and video). We also have a Discord linked in the topic.
#social-office-today: Where's your office today? Share a photo or use words to describe it.
#social-lego: Build, inspire, play. Share your builds and invite your children.
#social-lgbtq: Space for LGBTQ people and allies in <Company> to chat and support each other.
#social-managers: Share ideas, thoughts, and issues on all things to do with being a manager at <Company>.
#social-mental_health_aware: Mental health is super important and we realize that. This is a place to discuss concerns you might be having or find someone to talk to if you're feeling alone.
#social-music: Share your current playlist or any interesting music you come across.
#social-postcrossing: Send team members postcards from your home cities, towns and villages from around the world.